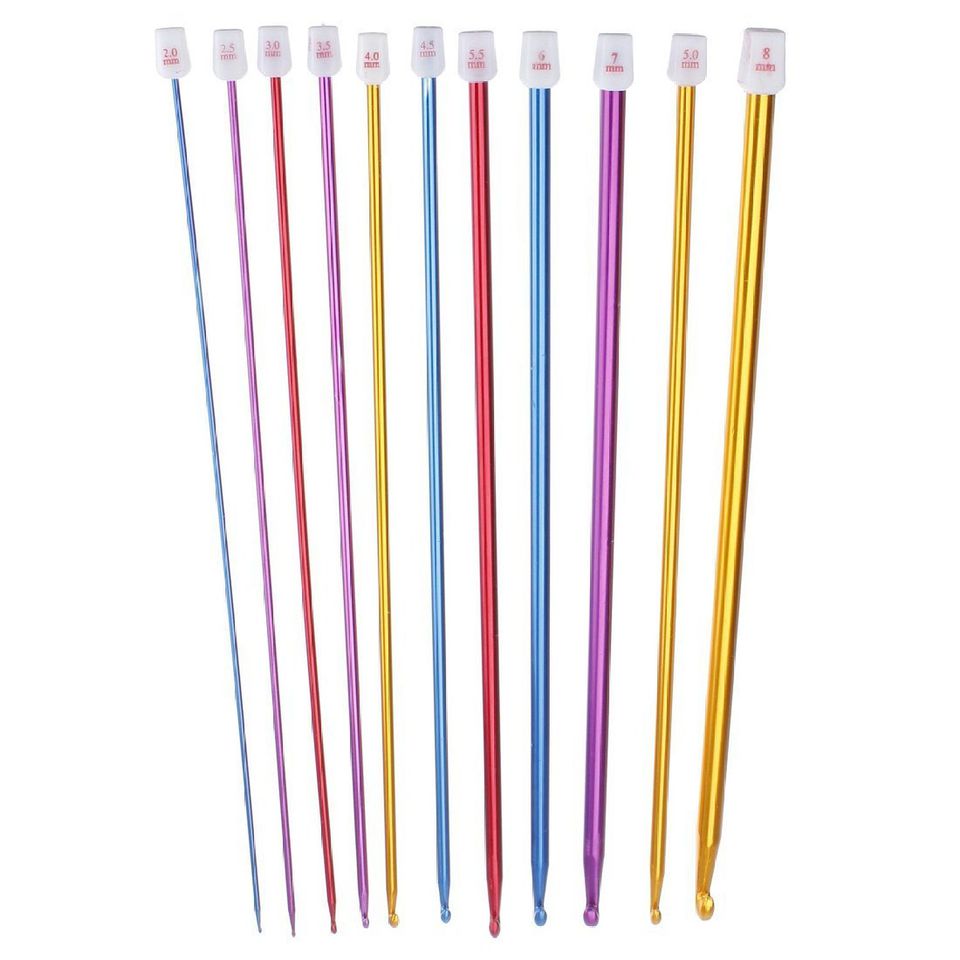 Tunisian crochet is a fabulous niche of crochet that allows you to craft in a slightly different style to create fabrics that have a "knit-look" design instead of the traditional look of crochet. The way that this look is achieved is by holding your loops on your crochet hook, like you would do with a knitting needle. Because of this, you need to invest in Tunisian crochet hooks rather than just using the crochet hooks that you already have, if you plan to do a lot of Tunisian crochet.
Do I Have to Get a Tunisian Crochet Hook?
Many people who are just getting started with Tunisian crochet want to know if they really have to get a special tool to do this crochet technique. The answer is, "not necessarily, but it's a good idea". Small swatches of Tunisian crochet can be done on regular crochet hooks, as long as the hooks that you have do not have very wide thumb grips (because you have to hold loops on the hook and large thumb grips alter the height of those loops). And if you want to do Tunisian thread crochet, you can probably use the hooks that you already have for thread crochet. 
That said, Tunisian crochet is really a lot easier to master when you have the right tools. Tunisian crochet hooks are longer than regular crochet hooks, and they are shaped properly to hold many loops on the hook at a time without stretching some to different heights than others. In this case, having the right tools is really going to facilitate a better experience of learning new crochet stitches.
Where Can I Buy Tunisian Crochet Hooks?
Tunisian crochet is a niche of crochet but it's become increasingly popular again in recent years, so you shouldn't have any trouble finding Tunisian hooks in any of the places where you normally buy crochet hooks. Major stores including Hobby Lobby and Joann's usually have Tunisian crochet hooks, although some stores will have better size selections than others.
You can check with your local LYS to see if they sell Tunisian crochet hooks. Or you can shop online.
Note that if you are searching online for Tunisian crochet hooks, you might want to also do a search for "Afghan crochet hooks". Tunisian crochet is also called Afghan crochet so the hooks may be labeled either way. They are the same types of hooks. Some people get confused, thinking that Afghan hooks are just for making blankets (afghans) but they're actually referencing this niche of crochet that is known by a couple of different names. Most stores these days will advertise the hooks as Tunisian crochet hooks or will use both names but it's helpful to be aware of both terms when searching for the right crochet hooks.
The Tunisian crochet hooks pictured with this article can be purchased on Amazon.
Wait, Aren't Tunisian Crochet Hooks Double-Ended?
You may have seen long crochet hooks that have a "hook" on either end. If you are second-guessing yourself and thinking that those are used for Tunisian techniques ... you're right! Tunisian crochet worked in the round uses double-ended crochet hooks. The extra-long crochet hooks with a hook on only one end is what you need for Tunisian crochet worked in rows ...
if you want to work Tunisian crochet in the round then you actually need to purchase additional supplies. You can either get a double-ended crochet hook or a circular Tunisian crochet hook, which is basically two crochet hooks connected together by a cable that runs between them. Note that these cabled Tunisian crochet hooks are also great for working Tunisian crochet in rows when your rows are very long (as in a Tunisian crochet blanket pattern, for example); the cable can hold your extra loops for you as you crochet.
So, in summary, you can technically do Tunisian crochet with a regular hook, but it's best to purchase the right kind of tools - a long Afghan crochet hook for working rows and a double-ended or circular Tunisian crochet hook for working in the round. I'm excited that you'd like to give Tunisian crochet a try!
I hope you'll enjoy the technique. Once you've purchased your hooks, please be sure to check out our free Tunisian crochet patterns.
See Also: How to Hold a Tunisian Crochet Hook | Holding a Tunisian Crochet Hook for Left-Handed People
This article has been edited by Kathryn Vercillo.