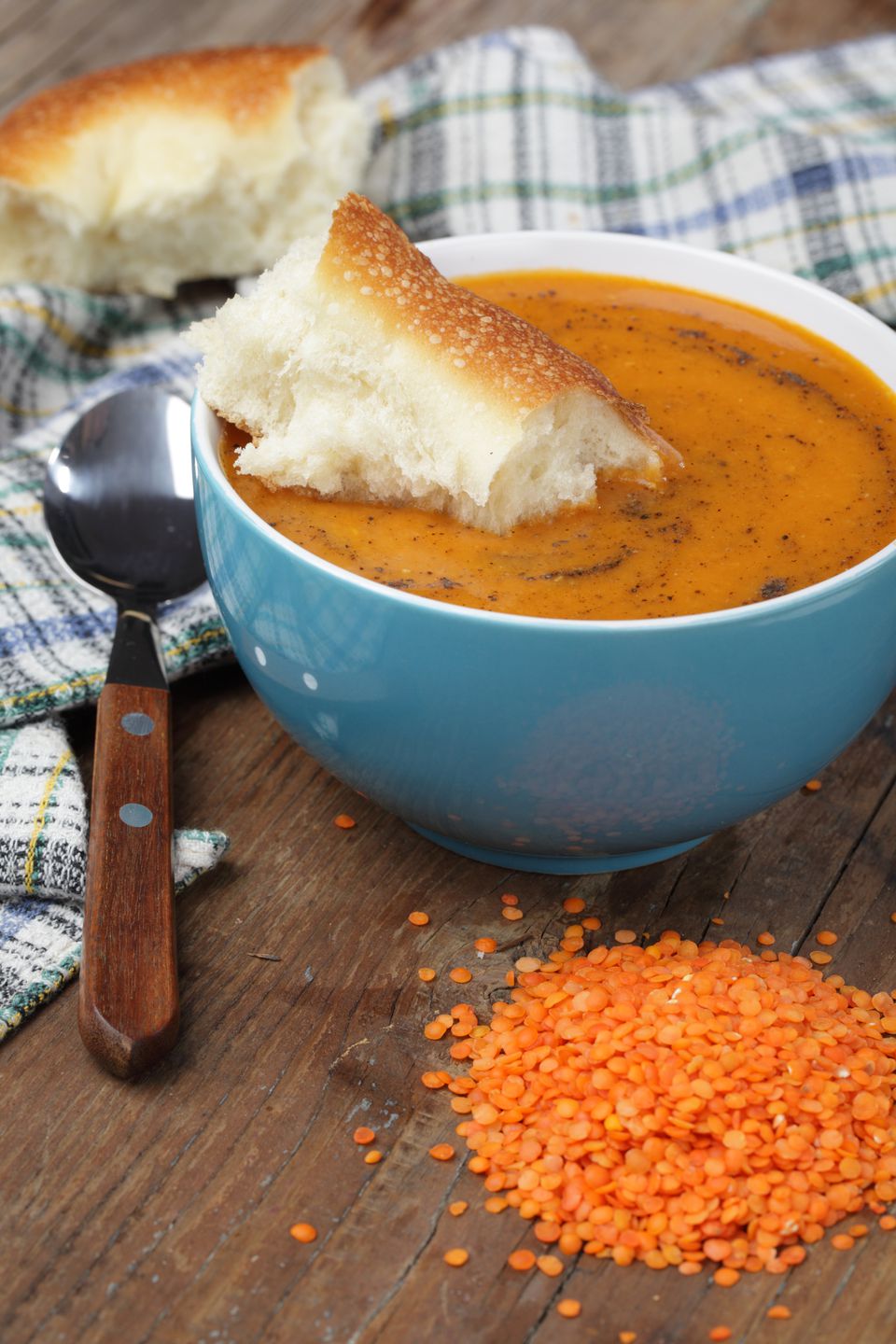 'Ezogelin' (EZ'-oh gel-EEN') soup is a hearty and delicious Turkish soup made with red lentils, rice, bulgur, pepper paste and Turkish spices. It comes from the southeastern region of Turkey, and it's a great example of Turkish regional cuisine.
When I make this soup, I always remember the story behind its name.
The Story of Ezo Gelin
In Turkish, 'gelin' (gel-EEN') means 'bride.' 'Ezo' is the nickname given to a girl named Zöhre from the province of Gaziantep in the deep southeastern part of the country near the Syrian border.
Ezo became famous throughout the region for her extraordinary beauty. It was said her beauty was so eye-catching that even at weddings, all eyes would be on Ezo rather than on the bride.
But her heart was not easily won until she met Şitto from the neighboring village. Şitto and Ezo were married and lived for several happy years until trouble began brewing.
Some say Şitto went to the army and never returned, while others say jealous hearts succeeded in driving a wedge between them.
For six years after their separation, Ezo turned away every marriage proposition from rich and poor men alike. Legend says her sadness made her grow even more beautiful over the years.
Finally, with the coaxing of her family, she married another man from the neighboring village. They had several children.
When her husband's family moved from her home in Turkey across the border to a village in Syria, her sadness deepened. All she wanted was to be buried in a spot that overlooked her home in Turkey.
Her husband and his family honored this request. Legend has it her grave is at the crest of Bozhöyük mountain near the border overlooking the village back in Turkey she loved so much.
A Turkish Folk Song About Ezo Gelin
There is also a Turkish folk song about Ezo gelin. The lyrics go something like this:
"They stole her from my hands, the bride Ezo. Before I could hug her tiny, fragile waist. Who will wipe the flood of my tears?"
"Mountains, noble mountains, My troubles are so great, mountains. Allow me to sacrifice myself. Let it pass quickly, mountains."
"The bride Ezo, the apple of Antep's eye, Her pale hands now covered with henna, The hunter's wound is through the heart."
"Mountains, noble mountains, My troubles are so great, mountains. Allow me to sacrifice myself. Let it pass quickly, mountains."
One of Ezo's Best Recipes
Legend has it that during her happy years, this recipe was one of her favorites which she often prepared for her husbands and children. Thus, the name 'Ezogelin' soup. Today, this soup is common all over Turkey.
'Ezogelin' soup is similar to Turkish red lentil soup, but it is not strained through to make a smooth, creamy texture. The rice and bulgur are left whole or to cook in the soup, giving it a unique texture.
Try this recipe for a Turkish soup that was named after a legend and has a song written about it.
1 onion, very finely chopped
1 ½ cups red lentils
½ cup large grain rice, such as Baldo
¼ cup coarse bulgur
1 heaping tbsp. flour
4 tbsp. butter or margarine
2 tbsp. sweet red pepper paste or tomato paste
8 cups beef broth or bouillon
2 tsp. salt
1 tsp. hot red pepper flakes, more or less to taste
1 tsp. dried mint, more or less to taste
Melt 3 tbsp. of the butter or margarine in a large, covered saucepan. Add the onion and fry until translucent and very tender. Next, add the flour and stir until bubbly, but be careful not to let the flour brown or burn.
 
Mix the pepper or tomato paste with two tablespoons of water, then add to the flour and stir until well combined. Next, slowly add the beef broth while stirring constantly. Continue stirring the mixture over high heat until it comes to a boil.
 
Wash the red lentils, rice and bulgur together in a fine wire strainer until the water runs clear. Add them to the boiling mixture. Add the salt, then reduce the heat and cover the pan. If you are using bouillon, you may need to reduce the added salt. Let the soup slowly simmer until the rice and bulgur are very soft and the lentils have fallen apart, about 20 minutes.
 
Melt the remaining 1 tbsp. of butter in a small skillet or pan. Add the hot pepper flakes and mint and stir over the heat for a minute or two. Stir the butter and spices into the soup and let it simmer a few minutes more. If the soup seems too thick, add a little more water or broth. Adjust the salt and spices to your taste.
 
Serve a sliver of lemon for squeezing along with each bowl of soup as a garnish. You can also put small bowls of red pepper flakes and mint on the table for sprinkling on top.