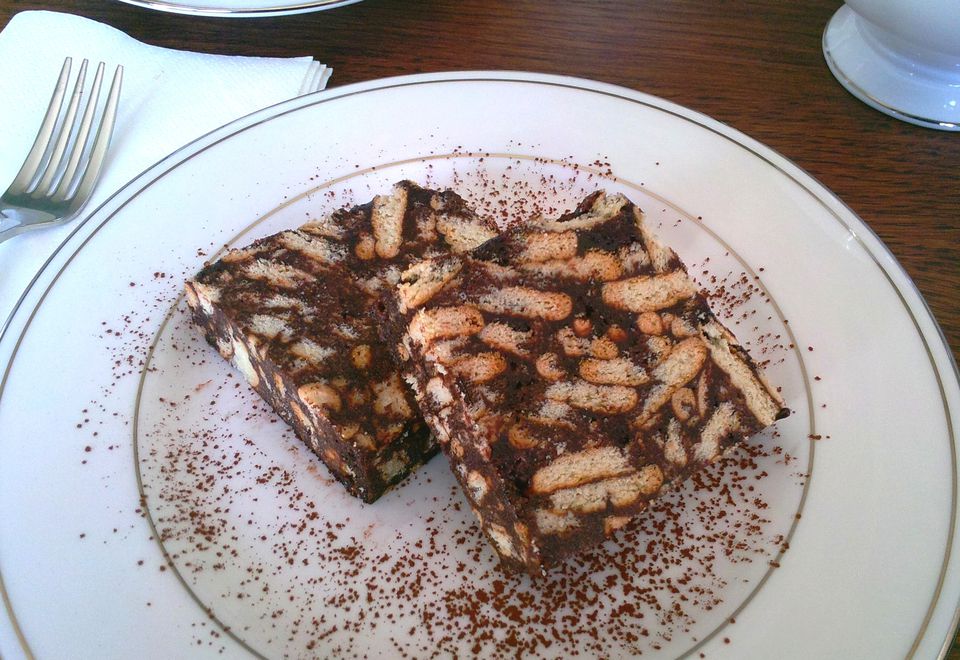 The recipe for the mosaic cake is not originally Turkish, but like its other European counterpart créme caramel, the mosaic cake has worked its way into Turkish urban cuisine sometime during the last century. Today, it has become a favorite to make at home or to eat at the pastry shop.
Nearly every mom makes this easy dessert for her children, and even the most highly acclaimed pastry houses in Istanbul offer a version of it in their shops.
It's one of my good old standby recipes when I'm in a rush, and I also use it along with other ingredients to put together very fancy desserts.
The Dessert That Has It All
This dessert has everything going for it. It's simple to make with easy-to-find, inexpensive ingredients. It's a do-ahead dish that will keep for several days in the refrigerator and doesn't require baking. It's rich, chocolaty, buttery and tender, all at the same time.
What's more, no matter how you slice it and garnish it, it looks beautiful on the plate. The white biscuits form a mosaic-like pattern inside the chocolate, hence it's named. It's great for kids parties and all sorts of entertaining, as well as the simplest family meal.
Shall I go on? It goes very well with coffee and tea. You can add other ingredients like dried fruits, nuts, mini marshmallows and chunks of chocolate to the mix to make a more elaborate cake.
Does rocky road mosaic cake sound good to you?
You can serve the mosaic cake with chocolate sauce or vanilla ice cream, or slice it thin to make ice cream sandwiches. I often use it to layer other ingredients like whipped cream and fruit. You can even cut it into cubes and use it to dip in chocolate fondue.
What you can do with this wonderful dessert is limitless. No wonder Turkish people were so quick to adopt this dessert and call it their own. Try this simple recipe to get started, then let your creativity soar.
Ingredients
1 pound / 500 grams petit beurre biscuits
1 cup sugar
½ cup cocoa powder
1 tsp. vanilla extract
4 eggs
1 cup / 225 grams butter
3 ounces / 80 grams bitter chocolate
a long, narrow loaf pan
clean plastic bag, cut open to make a rectangle
Preparation
First, break all of your petit beurre biscuits into small squares and set aside. Melt the butter and chocolate together in the microwave or in a double boiler.
 
Whisk the sugar, vanilla, and cocoa powder into the butter and chocolate and mix well. Wisk in the eggs and mix well until thickened.
 
In a large mixing bowl, combine the broken biscuits and the chocolate mixture by turning it gently with a wooden spoon until all the crackers come in contact with the chocolate.
 
Line your loaf pan with the clean plastic sheet. Fill the pan over the plastic and pack the mixture down as tightly as you can with the back of the spoon. Once all the mixture has been packed down, smooth the top, then close the edges of the plastic over the top.
 
Refrigerate the mosaic cake for several hours or overnight before serving. When the cake is set, unwrap the plastic from one end and begin slicing it. Close the plastic again and keep your cake in the refrigerator for several days.