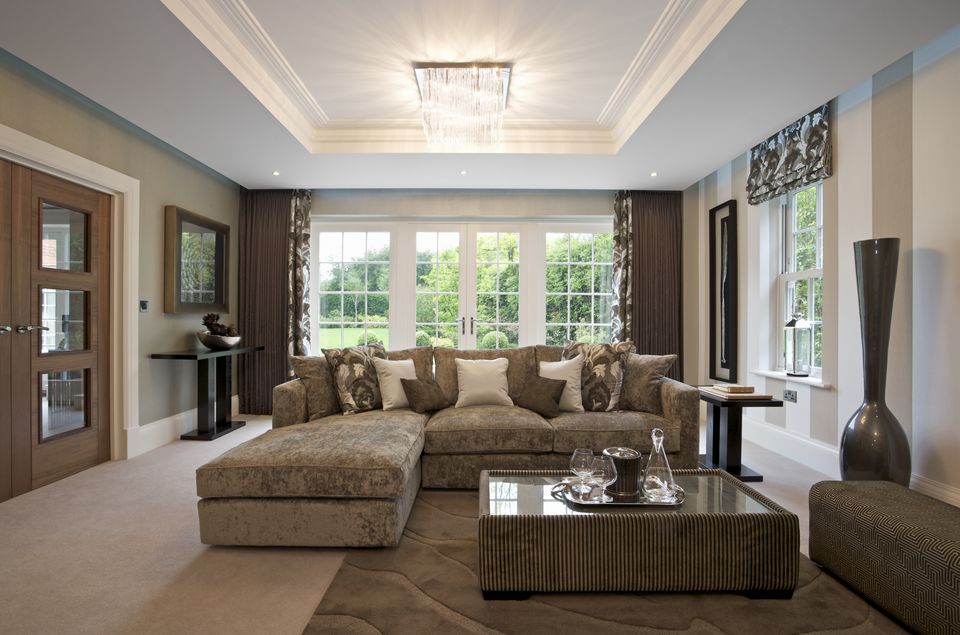 Ask the question, "Is it okay to put an area rug over wall-to-wall carpet?" to a group of people and you will likely get a very split response. People seem to be quite divided on this topic – some people love it and some people don't. Well, décor is typically a very personal thing, and what works for some, won't work for others. So, with that in mind, I will go on record stating my view, which is that with proper selection and placement, I think that an area rug on top of carpet can definitely work to enhance a space.
Should You, or Shouldn't You?
So, how do you know if you should put an area rug over your broadloom? Well, aside from the more obvious reasons – you're renting or otherwise unable to change the carpet; your carpet is showing signs of wear in areas that you would like to cover up – the answer is, simply, do it if you want to! Area rugs are a wonderful way of bringing new life into a space. They can add a pop of color or texture, in a way that doesn't require a total room overhaul. And, the options for area rugs are pretty much limitless. You can even make your own custom rug out of broadloom.
The "rules" (and I use the term loosely, because so many décor rules are just made to be broken) for choosing an area rug to use over broadloom are not that different from those meant for using an area rug over hard surface flooring. However, there are a couple of other considerations. Here are some tips for selecting an area rug to be used over carpet.
Texture is Key
The key to layering carpet over carpet is to vary the texture. Area rugs generally work best over short-pile or looped carpet. In those cases, laying a thick, luxurious shag rug adds a wonderful sense of softness and elegance to the space.
Similarly, if you have a more plush style of carpet installed, then choosing a low-profile berber or woven rug is your best bet.
I don't recommend putting an area rug over a very long-pile carpet, such as a frieze or a newer "soft carpet" (such as SmartStrand) because the area rug will not have firm support, and will shift, buckle and wrinkle.
Size Matters
Often, people think that if they have wall-to-wall carpet, the general rules for choosing an area rug size don't apply. I beg to differ. I think a small rug that "floats" in the middle of a space, without touching any furniture, looks awkward and cheap. Your rug must be scaled to the size of the room, regardless of what is under the rug.
Follow these guidelines for choosing the right size for your area rug.
Color Considerations
Again, choosing the color for your area rug is a basic principle that applies to most circumstances. The only difference when the rug is going to be used over carpet, is to make sure that the color of the rug complements the color of the carpet. You may be laying down an area rug because you can't stand the color of the existing wall-to-wall carpet, such as in a rental unit, but trust me, it will look much worse if you just throw down a rug that clashes with what's underneath.
See these tips for choosing the color for your area rug.
One Pattern at a Time
In general, when using an area rug over broadloom, patterns don't mix well.
If you have a plain broadloom, then you can use a rug that has a pattern. If your broadloom has any kind of pattern, whether it's printed (designs made of different colors) or cut and loop (the pattern is made from looping some fibers and leaving others long) then it's best to go with an area rug that does not have a pattern.
If you're looking for an area rug with a pattern, follow these tips on how to choose a pattern.
Anchor It
When using an area rug over carpet, it's important to make sure that the rug is properly anchored, to avoid having it bunch up and become a tripping hazard. Follow these steps to hold an area rug on top of carpet.
Enjoy It
Finally, as I always say, rules are made to be broken! If any of the above guidelines don't sit well with you, then throw them out the window and go with your gut feeling.
After all, you are the one who will be living with the rug. If you are happy with it, then that's all that matters.