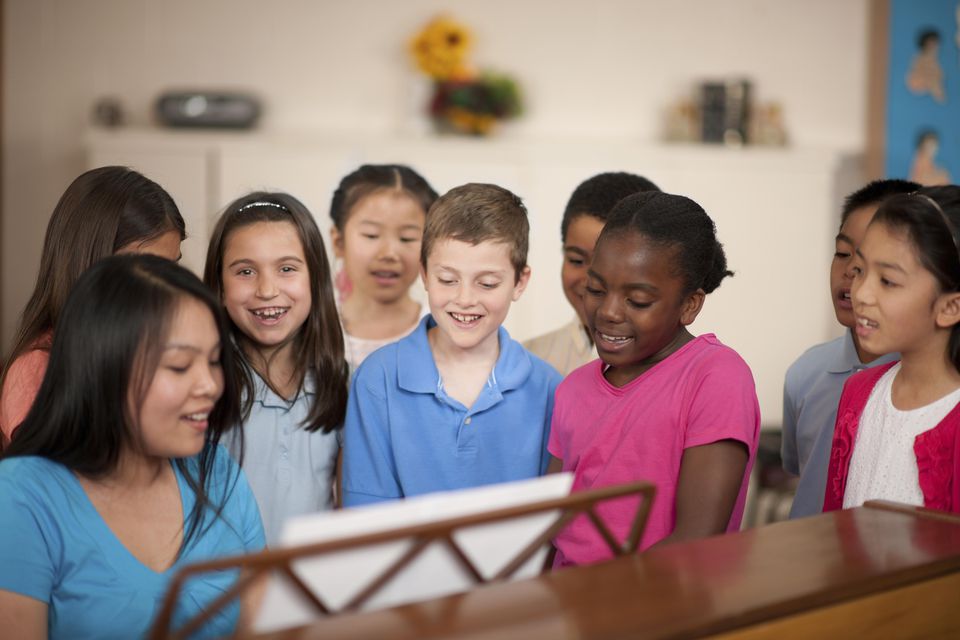 Vacation Bible School (VBS) is a ministry outreach churches provide to educate children about God. Each church runs its own Vacation Bible School program but may use a purchased religious curriculum in its teachings. Learn what VBS and why kids should attend Vacation Bible School for a week full of summer fun.
Get more help on finding the right kids' summer camps. Read the free Summer Camp Guide.
What is VBS?
VBS is a nationwide program many churches offer.
The purpose is to incorporate themed activities that entertain kids with the chance to learn about God. Vacation Bible School is an easy way to get kids involved in church while giving you the opportunity to meet the people within the church too. Church membership is not required to participate and it's a laid back atmosphere. 
VBS lasts about five weekdays in the summer. Children attend around 3-4 hours each day.
Vacation Bible School teachers are church staff as well as church members volunteering their time. Many of the church members helping out with VBS are parents too.
Vacation Bible School Themes and Activities
Many VBS programs choose one theme for the week. They use this theme to creatively adapt it to God's Word.
Sample themes kids may experience at Vacation Bible School include:
Beach party
Environment
Jungle
Road trip
Science
Shipwreck
Space
Superhero
Western
A typical day at Vacation Bible School may include:
Prayer
Bible stories
Arts and crafts
Games
Skits
Songs
Puppet shows
Sports activities
Snack breaks
Team lessons
Character-building activities
Age Range
Preschoolers up to high school age children benefit the most from Vacation Bible School. Age guidelines vary from church to church with many focusing on the elementary school ages.
Some also offer free childcare for volunteers who have children too young to attend VBS.
Benefits
Children learn about religion through fun, age-appropriate activities.
Life lessons help every child learn how to be a good person and a friend to others.
Perfect for younger children to get a feel for camp without having to go away overnight.
Kids meet new friends who share their beliefs.
You don't have to be a church member to attend VBS.
Costs
There are many free summer programs for kids. Most Vacation Bible School programs are too. Some do charge a small fee, which usually covers snacks and craft supply costs. T-shirts and CDs featuring the songs learned that week may also be offered for an additional fee.
Volunteering for Vacation Bible School
Churches begin preparing for Vacation Bible School almost immediately after the current year's session ends. Volunteers are always welcome, even up to the day VBS begins.
You can help with snacks, crafts, childcare at the church, registration, setting up, breaking down, storytelling, coordinating other volunteers and more. If you prefer a hands-off approach, churches also ask for donations of household items, such as used toilet paper rolls or popsicle sticks, for some of their crafts or decorations.
Call your local church to find out what their needs are so you can help with VBS.
Finding a Vacation Bible School
Most churches run their own Vacation Bible School programs. If the church you are interested in is not holding its own VBS, the church secretary can usually provide a list of other churches in your area who are holding VBS.
You can also check newspapers, local magazines, message boards and the church's website. Vacation Bible School dates, registration info and fees (if any) can typically be found through these resources as well.
Why Children Should Attend Vacation Bible School
Vacation Bible School is a wonderful opportunity for kids to socialize and learn more about religion in a relaxed setting. VBS has something for everyone, despite each person's religious views.
While activities are centered around teaching kids about God, VBS combines fun and learning without the formality of a Sunday service.
Local churches will be happy to talk to you about what you can expect from their particular Vacation Bible School.