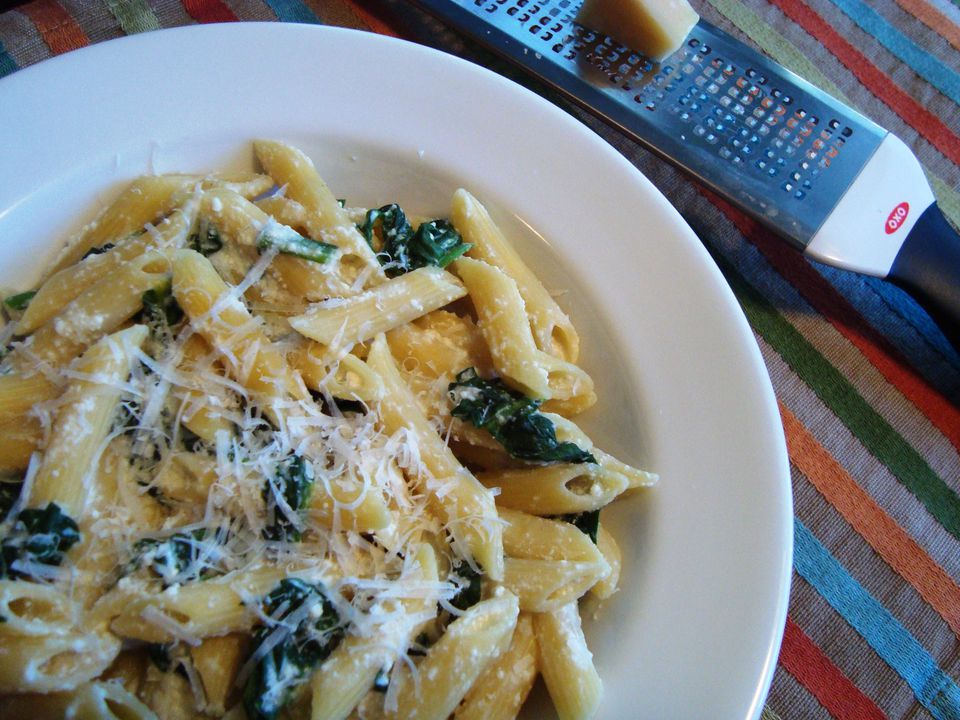 Quick and easy vegetarian pasta with spinach and ricotta cheese recipe. This vegetarian pasta dish is perfect just as it is, and, for simplicity, you really can't beat this easy one-dish meal. Try it a couple of times, and try adding to it: perhaps a drizzle or two of lemon juice to make the flavors burst, add some tomatoes, perhaps sun-dried tomatoes and kalamata olives if you're feeling up for something a bit Mediterranean. And, if you and your family love getting your greens, you may want to add even more spinach or, plan on trying it with another type of green, such as Swiss chard (though chard will need more cooking time than the spinach).
This is a simple vegetarian dinner pasta made in one pot. It's the perfect vegetarian dinner idea. 
For this meal, be sure to use quality ingredients, as there's not much added flavor in this recipe, due to its simplicity. That makes it a great recipe for using a homemade pasta or a fresh pasta, since the flavor of the pasta itself can shine through. Of course, you should also use a nice quality olive oil in this recipe, if you have one, and using sea salt or kosher salt or another high quality salt will always pay off when cooking. It's so worth it, particularly in simple vegetarian dishes such as this one.
1/2 pound pasta (any kind)
10 oz. fresh spinach
3/4 cup part-skim ricotta cheese
3 tbsp. milk or soy milk
1/4 tsp. garlic powder (optional)
Salt to taste (use sea salt or kosher salt)
Black pepper to taste (fresh ground)
Optional: Good quality olive oil
Optional: Fresh Parmesan cheese
Cook the pasta according to the package instructions. Drain pasta well and then return it to the pot over low heat.
Add in the fresh spinach, stirring to combine, then add the ricotta cheese and the milk, using a spatula to gently break up the ricotta cheese.
Stir in the garlic powder, and season well with salt and pepper (sea salt or kosher salt and fresh cracked black pepper are best). 
Once the spinach has wilted and ricotta cheese has dispersed (this should just take a few minutes), drizzle with a bit of olive oil (optional) and top it all off with a bit of fresh grated Parmesan cheese and enjoy your simple pasta dinner! This dish is best served immediately.
See also: More of the best vegetarian pasta dishes to try
Like this recipe? Here's more simple vegetarian pasta dinners you might enjoy: