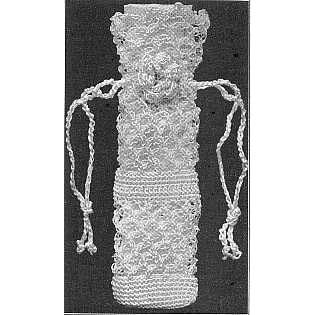 Fashion always comes back around, with the old styles getting a modern update just a few decades after they were last popular. And yet, there are some items that were worn years ago that we just don't usually wear a lot anymore. A few of these have made comebacks recently as crocheted items; the crochet cloche hat is a great example of a 1920's fashion accessory that's popular today. There are also a few other cool vintage items that haven't quite made the comeback but could be re-created in crochet today for a really original look.
Here are five of my favorite vintage fashion items that you might want to try to crochet:
1. Fascinators. 
The fascinator was first made popular by Marie Antoinette and then had a fashion revival in the Edwardian era. Despite this, most of the people I know had no idea what a fascinator was until the lacy, feathery head ornament burst back onto the fashion scene in 2011 when several stylish guests wore them to the highly publicized royal wedding of Kate Middleton. Fascinators became a craze for a really short period of time and then seemed to fade from the limelight but personally I think we should hang on to them in fashion for awhile. Learn more about crochet fascinators here.
2. Hair Snoods.
The snood is a hairnet for a woman's bun that was especially popular during the Renaissance era. Hair snoods made their big revival in the late 1800s when they were often worn by unmarried women in Europe.
And they were brought back into fashion again during World War II. It sounds to me like it's perfect timing for the snood to make another comeback in fashion. Crochet is the perfect medium for making snoods since they are openwork lacy items. Do a search around the web and you'll find several patterns for crochet hair snoods; Creativebug has one example.
3. Detachable Collars.
I'm happy to say that this vintage fashion item has made a recent comeback and I suspect it might be here to stay for awhile (although I know that fashion is fickle). The Peter Pan Collar seems to be the most popular inspiration for designs; it was originally made popular in sewing designs in the early 1900s. I've noticed quite a few vintage crochet patterns for detachable collars that date back to the 1930s. Craftsy has a cute crochet collar pattern roundup if you want to try a contemporary version of this accessory.
4. Jabot.
Collars aren't the only vintage neckpiece that can look really cute when crocheted. The jabot is another fashion item that ought to make a comeback. This word originally referred to the ornate ruffles on shirts in the 17th century but then became popular as a neckpiece on its own around the 1930s. At that time there were some designs in crochet. I learned about the jabot because crochet designer Shelby Allaho created a contemporary crochet pattern for a modern jabot in 2011. I haven't seen many other modern crochet designs for the jabot but there are some vintage patterns available online like this one. I think that this could make a really cute feminine statement with a sharp, structured suit for a great hard/soft fashion look for the office.
5.Miser's Purse
Clothes Tell Stories explains that "these small purses with center slit openings and sliding rings or clasp closures were ubiquitous throughout the nineteenth century." They were also called finger purses. The purses were popular for use as coin purses until the 1920s. I don't think I've ever seen anything like this today but a beaded, crocheted version would be a really cool fashion item to bring back into style.