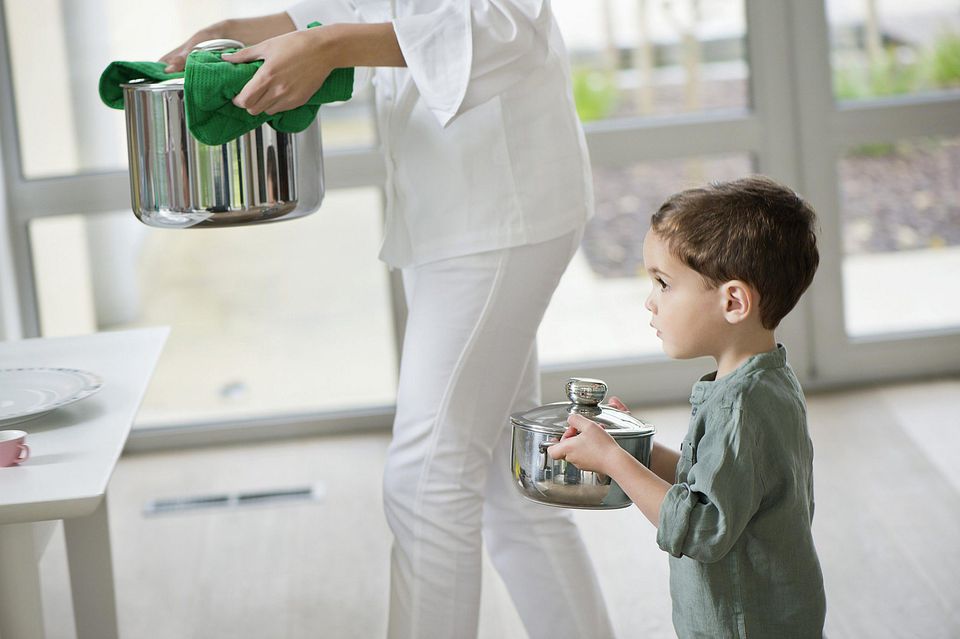 Play restaurant with your kids when you have food to put on the table or when they simply want to pretend. Serve up good food with a side of fun when you turn your kitchen into your family's favorite restaurant. Just use these 7 fun ways to play restaurant with your kids to cook up some fun today.
Name Your Restaurant
You can't play restaurant without naming your fine establishment. Let the kids name your restaurant.
Get creative with names like Mom's Meat House, Ciao Down or Lettuce Eat.
Hire Your Restaurant Staff
If you're cooking for tonight's dinner, mom or dad get to play chef. But if you're engaged in pretend play, break out the plastic food and let your kids cook up your meal.
Round out your restaurant staff with a hostess to seat those hungry diners and waiters and waitresses to take care of your customers. Whether you're preparing for tonight's family dinner service or just playing restaurant with your imagination, the kids will love taking part and you'll get some extra hands to help you out.
Make Menus for Your Restaurant
When you make one of your family's favorite meals, take a picture of the food. Pretty soon, you'll have enough pictures to make a customized menu for your children's restaurant business.
Or write out some menus and have the kids cut pictures of food from magazines to be pasted into the menu.
They can also color the menus to make them even more unique.
Don't have time to create your restaurant's accessories from scratch today? Use the free Let's Play Restaurant Kit and print all of your materials from your computer.
Don't Forget the Specials
Of course, mom doesn't want to spend her time cooking meatloaf for dad, macaroni and cheese for Johnny and fried chicken for Sally when it's spaghetti and meatballs night.
Get out the chalkboard and write up some specials.
For your Italian-themed night, your appetizers can include breadsticks. Your entree is spaghetti and meatballs. For dessert, how about spumoni ice cream?
Everyone can look over their menus and seriously consider the other items when your family plays restaurant. But in the end, your special of the day will be too irresistible to pass up.
Running Your Restaurant
Open the doors to your restaurant and put your kids to work. Have your host or hostess seat everyone at the family table and provide them with menus.
Your friendly waiter or waitress can start with drink orders and remind your diners of today's specials. After drinks are delivered, let your wait staff take orders on a notepad and turn them into the chef. They can help serve the food when it's ready and periodically check on the diners to see if they need refills, extra napkins or a second helping.
Just remember, your restaurant is a little different. Your restaurant staff should take a break and eat too!
Cleaning Up After the Meal
When everyone's finished eating, your wait staff can help clear the table. It's a great way to sneak in a lesson about responsibility.
Your children can throw away any trash from the table and scrape food off the plates.
They can even help you load the dishwasher.
Settle the Bill
The grub was good but it's time to leave the restaurant. Have your wait staff serve up the check for such a fine meal.
Use play money to pay for the bill or surprise your kids with real money they can put into their piggy banks for helping out with your restaurant. Diners, don't forget to tip your waitress!
Now that your family has been fed and the kitchen is clean, turn your home into a movie theater and enjoy a family movie night together.