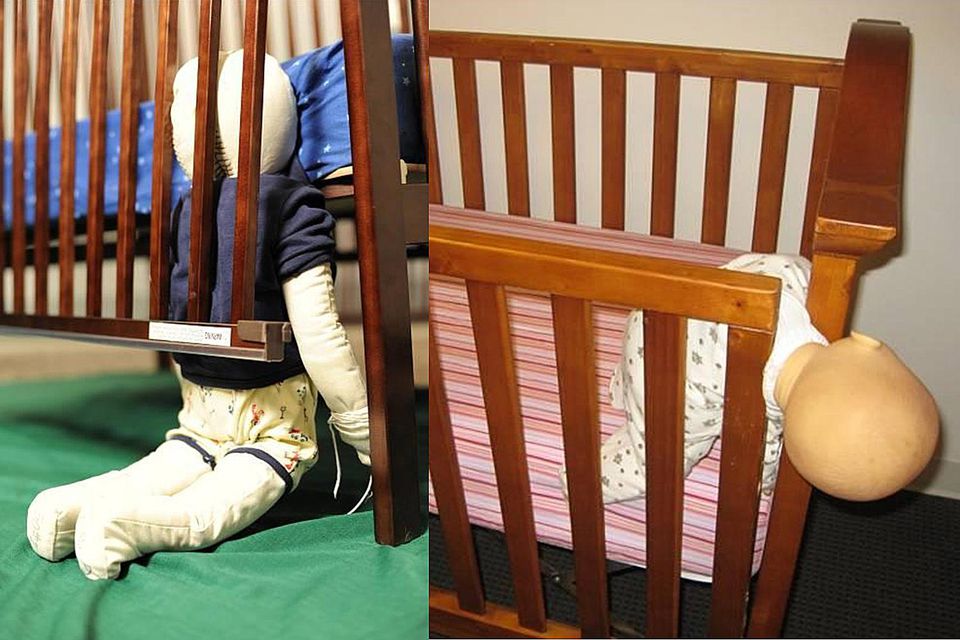 A drop-side crib is a baby crib where one or more of the sides slides down to allow easier access to baby. The sliding side means that parents don't have to reach over as far to pick up a baby in the crib. Drop-side cribs can be single-drop side, where only one side moves, or double-drop side, where both of the long sides slide down.
Various types of hardware and drop-mechanisms are used on these cribs.
A large number of recalls due to hardware and durability issues prompted government agencies and other safety groups to consider a ban on all drop-side cribs. The moving parts were more prone to breakage due to wear and tear. When the drop-side of a crib fails, it can create a gap where a baby can become entrapped.
In 2010, the U.S. Consumer Products Safety Commission issued a safety warning on drop-side cribs. The agency collected 10 years of data on crib-related deaths and injuries, telling parents that 32 babies and toddlers died of suffocation or strangulation related to drop-side crib components. Fourteen additional deaths were likely related to drop-side cribs but the crib could not be fully verified as the cause of death. Hundreds of other injuries and incidents were also reported. Some of the deaths happened in cribs where the drop side broke and was not noticed by the parent or caregiver, but some deaths occurred after the parent or caregiver attempted to repair a broken drop side that later failed again.
CPSC also says taking a crib apart and re-assembling it multiple times, whether for multiple children or because of resale, can also lead to drop-side crib failures. Loosened or broken hardware, missing parts or improper assembly can cause the drop-sides of a crib to come loose, also creating a dangerous gap.
Can You Still Buy a Drop-Side Crib?
The newest federal crib safety standards, which went into effect in 2011, ban the manufacture and sale of drop-side cribs in the U.S. Crib companies no longer make this type of crib, and you will not find a drop-side crib in any stores these days. Many secondhand shops and consignment stores won't carry cribs of any type, but those that do should also not be selling drop-side cribs. While it's not likely that an individual would be penalized for selling their old drop-side crib, it is technically illegal to do so, since all drop-side cribs are now considered to be recalled.
Some crib manufacturers made special kits that can be used to immobilize the drop side and address the hazard for cribs that were already in consumers' homes. If you own a drop-side crib already, you can contact the manufacturer via information on the crib label, which is usually on an inside rail or inside the headboard or footboard. They can send an immobilization kit if one is available. You should not try to immobilize the drop side on your own. Do not use a repair kit from another company unless the manufacturer of your crib indicates you should do so.
Modern Cribs, Better Choices
Today's modern cribs are tested to much better standards, and are designed to be sturdy and safer than ever.
Several crib models are available at great budget-friendly prices, too. Take a look at these 8 Cute Cribs Under $150, as well as 6 Great Cribs Under $250. If you're considering buying a used crib, be sure to take a look at the simple but modern-chic IKEA Sniglar crib. It meets modern crib safety standards and sells for about $70, which is less than you might pay for a used drop-side crib. When you buy a used drop-side crib, it may not only be unsafe because it wasn't tested to the current safety standards, but the crib also could be missing important hardware or rail pieces, and those missing pieces could create a dangerous sleep space for your baby.