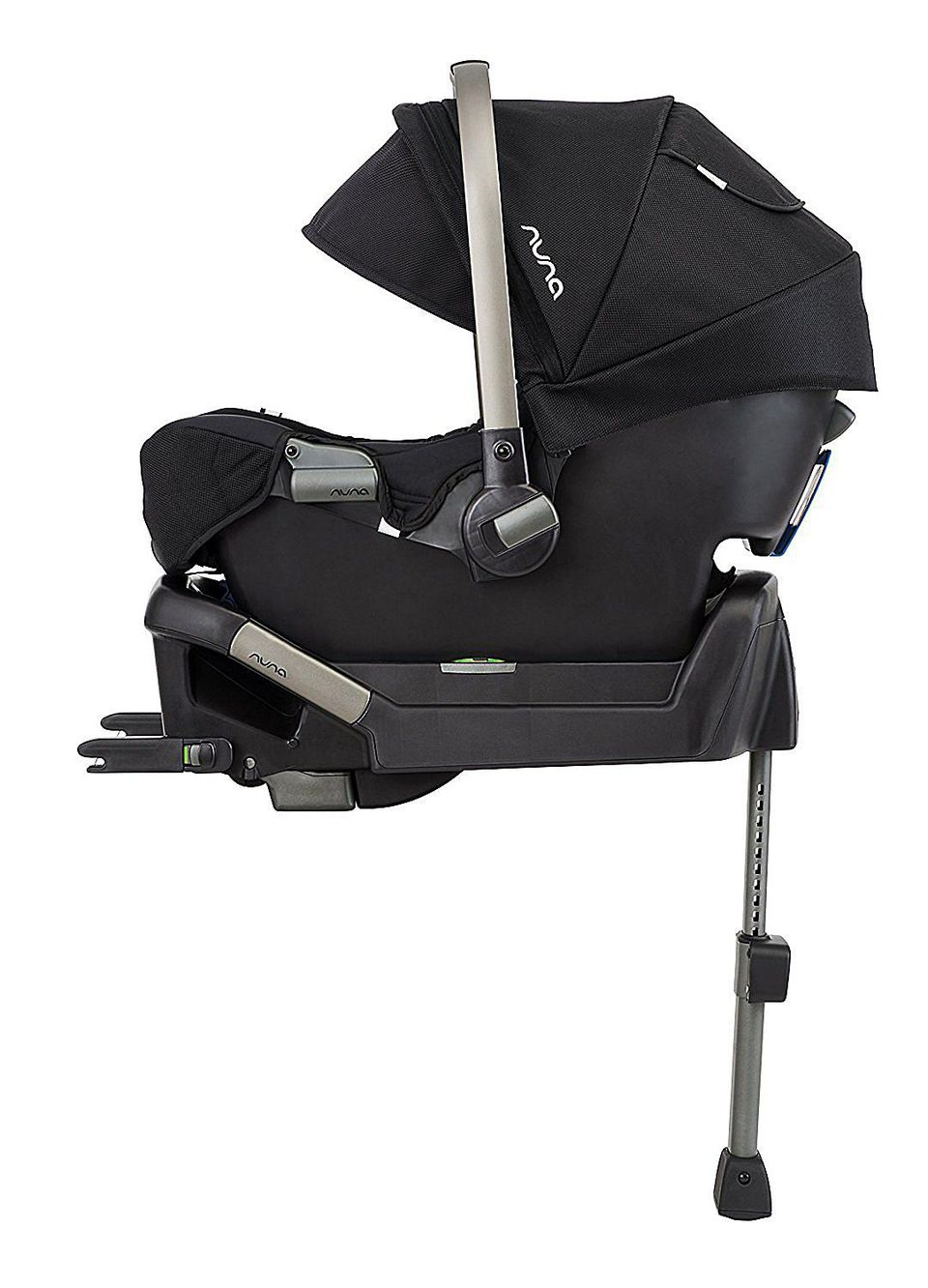 A car seat foot prop, also called a load leg, is a rigid leg that extends from a car seat base or the back of a convertible car seat to the floor of the vehicle. The purpose of a foot prop is to reduce the downward rotation of a rear-facing car seat in a crash. The force of rotation can increase the chance of injuries, especially to the head and spine. The use of a foot prop on rear-facing car seats can help reduce those injuries by reducing the transfer of crash energy to the child.
In 2016, Consumer Reports said their independent crash tests showed load legs "provide additional stabilization and better tie the child seat to the vehicle during a crash." Head injury risk, according to the Consumer Reports tests, is about 46 percent lower in a car seat with a load leg, versus a car seat without a load leg.
Foot props are not common on U.S. car seats at this time. In fact, only a handful of car seats have them. Current car seats sold in the U.S. that have a foot prop include the Cybex Cloud Q infant seat (Buy on Amazon), the Cybex Aton 2 infant seat (Buy on Amazon), the Nuna Pipa infant seat (Buy on Amazon), and the GB Asana 35 DLX and AP infant seat (Buy on Amazon).
One reason foot props are not common on U.S. car seats is because of the crash testing methods used in this country. Car seats are required to be tested on specialized sleds that do not have the same type of floor as a passenger vehicle.
That means it's impossible to test how the foot prop would work in an actual vehicle using the current test methods.
A foot prop usually has some method of adjustment for length and angle to fit a wide variety of vehicles. There's also usually a way to fold the foot prop in for storage. Some foot props have an indicator that shows you when it's being used correctly.
While load legs or foot props are adjustable, that doesn't mean the feature will work in every vehicle, though. Car seats with a load leg have very specific instructions on how they must be used in order to reduce the chance of injury to your child. Most instructions state that the load leg or foot prop must just touch the vehicle floor, and should not lift the car seat off the vehicle seat.
Many car seats with foot props cannot be used in a center seating position where the vehicle floor is curved or raised, because there isn't enough space for the leg to fold out without pushing up on the car seat. Nearly all load legs or foot props have to be used on a level section of the vehicle floor. Fortunately, these car seats have the folding mechanism so that you can use the car seat without the foot prop if needed. The car seat is required to pass federal crash testing with and without that foot prop, so it is safe for your baby either way. However, if you intend to use a car seat with a foot prop in a seating position with a raised floor or some obstacle, such as a console, that could interfere with the leg, it's a good idea to check for proper fit prior to purchase.
When used correctly, a foot prop or load leg could provide additional crash protection for your child.
Heather Wootton Corley is a certified Child Passenger Safety Technician-Instructor.