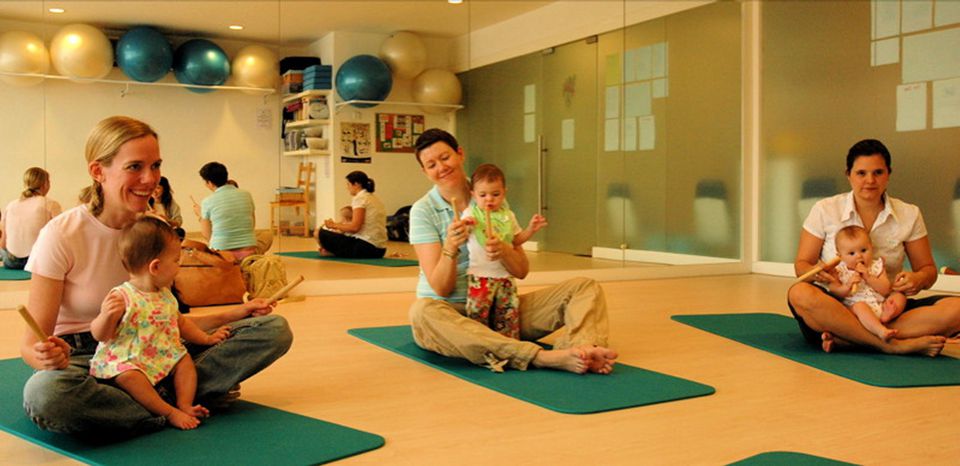 Open your children up to the world of music. Kindermusik is one of many music programs available to children and their parents. From individual classes for you and your baby to family classes that let you bring siblings, learn what to expect to decide if they're right for you in this complete review Kindermusik classes:
What is Kindermusik?
Kindermusik exposes children to a variety of musical styles.
The program teaches young children and babies movement and learning skills through music education. Parents and kids play with instruments, dance, sing and listen to stories each week. The program's take-home materials encourage learning outside of the classroom with books, instruments and CDs that accompany the music and activities from class. Some Kindermusik programs also offer classes for older children as well as classes for a variety of age groups.
What to Expect Out of Kindermusik Classes:
Many different types of Kindermusik classes are offered based on your child's age but there are some that are mixed age groups. You sign up for the type of class or classes that best suit your family.
There are classes that specifically focus on special time with your baby, teach songs through sign language, help your child develop reading skills and more. Other classes get your kids moving with dancing and play through Kindermusik's music CDs.
Most classes last 45 minutes once a week per session.
What you do in class depends on the program you're taking. You open up the class by singing a song. You may then go right into playing some instruments, dancing with scarves or listening to a book during story time. At the end of class, you close with a goodbye song.
Kindermusik Teachers:
Instructors become licensed Kindermusik educators through the company's start-up program. Kindermusik teachers pay annual licensing fees, can attend the company's annual convention and receive online training. Each instructor sets her own guidelines, policies and course fees. Becoming a Kindermusik teacher can be a great option for moms looking to earn extra income.
Age Range:
Classes are offered for all ages up to seven years old. There are even classes for newborns available.
Benefits:
Free trial class
Moms, dads and grandparents are encouraged to participate
Hands-on music interaction exposes your children to numerous instruments
Children (and parents) can play, be silly and have fun while learning
Activities are broken up every few minutes to keep children interested
Take-home materials provide hours of musical entertainment
Costs:
Cost varies based on the class you choose. Generally, you'll pay between $100 and $250 for a session of one day a week classes. Sessions are around 10 weeks long. Take-home material costs are included in your enrollment fee.
Finding a Kindermusik Program:
Since Kindermusik instructors work independently, you can shop around to find someone whose personality and teaching style suit you.
Talk with the teacher before signing up and take advantage of the free trial class.
The Kindermusik website offers a class locator that shows all of the instructors who hold classes in your city. Many Kindermusik teachers allow online registration with a partial payment to reserve your spot for the upcoming session.
More Kindermusik Tips:
Classes fill up quickly. Email the instructor ahead of time to ask when she will begin to accept new enrollments for the upcoming session.
Take advantage of the free trial class even if the program is in the middle of a session. That way, you can decide if the instructor matches your style and you'll still have plenty of time to shop around for a different Kindermusik class in case she doesn't.
Enroll for January classes, even if you're new to Kindermusik. The program ends at the end of each 10-week session so you won't be behind a semester like in a school setting.
Kindermusik is an excellent way to teach your children about music. You'll often find your kids want to listen to their CDs and play the instruments they received in their take-home materials for years to come.