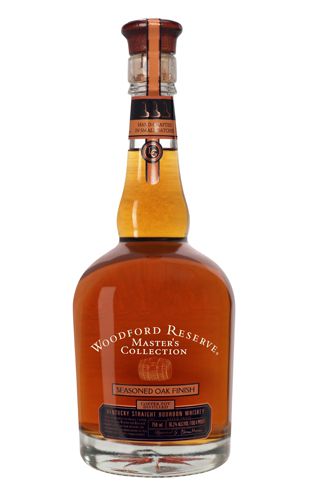 Woodford Reserve is one of the newer brands of bourbon even though it's home is one of Kentucky's oldest distilleries. Yet, in the 13 years since the whiskey's launch it has made some revolutions in the industry. The base bourbon -- that bottle you can find almost anywhere -- is a favorite for many, but every once in awhile bottles even more special comes out of the distillery. This series is known as the Master's Collection and the fourth of these limited edition bottlings was released the 1st of November in 2009 and is aptly named the 'Seasoned Oak Finish.'
Pros and Cons
A robust oak added to the sweetness of Woodford Reserve bourbon.
The flavors are complex as more spices are added via the special barrels.
A bourbon on the rocks that is fascinating.
May be too expensive for bourbon cocktails.
Limited edition bottling with limited availability.
Facts About Seasoned Oak Finish' Bourbon Whiskey
Woodford Reserve Distiller's Select Kentucky Straight Bourbon Whiskey finish-aged in barrels that are seasoned for 3-5 years.
Limited edition bottling, part of the 'Master's Collection.'
Distilled by The Woodford Reserve Distillery, Versailles, Kentucky for Brown-Foreman Corporation
Released in November, 2009
50.2% alc/volume (100.4 proof)
Retails for around $90/750ml bottle
The Master's Collection also includes Four Grain, Sonoma-Cutrer Finish and Sweet Mash.
Woodford Reserve Master's Collection 'Seasoned Oak Finish' Bourbon Whiskey Review
There are two aspects that distinguish the Seasoned Oak Finish with the regular bottle of Woodford Reserve and other bourbons.
The first is that, being a part of the Master's Collection, it is a limited edition and is only released when the Master Distiller, Chris Morris, feels it is time, which is typically random. The second is that it is finish-aged in barrels unique to the bourbon industry.
For this bottling, Woodford Reserve has taken some of their standard barrels, which they craft themselves, and season them for almost as long as the bourbon.
This extra seasoning lasts for between three and five years by setting outside and taking in the changing of the seasons. After that fully matured Woodford Reserve is poured inside and allowed to rest longer and soak in the oak's special characteristics. The result is the most robust bourbon that we have seen from Woodford Reserve.
This is a sipping bourbon not only because of its $90 price tag, but also because of its unique oak flavor. That extra seasoning accents the oak and brings in anise and spices alongside a sweeter side that is reminiscent of the original bourbon. This is definitely a whiskey connoisseurs would love to explore and one that anyone can appreciate.
Tasting Notes
The mahogany color of Woodford Reserve Seasoned Oak Finish alludes to what is to come in the taste, making you want to dig into the richness. The complex aroma has the background of the sweet bourbon base with hints of clove and cinnamon touched with caramel and surprising notes of nuts and tobacco. The palate is full of oak with anise and dried fruits, added to the flavors mirroring the fragrance while a touch of crispness begins a long, velvet finish.
Disclosure: Review samples were provided by the manufacturer. For more information, please see our Ethics Policy.